Chairman Sir Anthony Bailey, obe, knighted for his worldwide charity work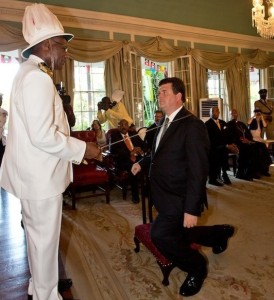 Painting & Patronage Executive Chairman His Excellency Sir Anthony Bailey, KGCN, OBE, GCSS, has been knighted in recognition of the longstanding charitable and inter-religious work undertaken through his institutional roles within the internationally recognised Roman Catholic charitable Sacred Military Constantinian Order of St George.
His Excellency Sir Rodney Williams, KGN, GCMG, Governor General of Antigua and Barbuda and official representative of HM Queen Elizabeth II in her right as Queen of Antigua and Barbuda, and on advise of Her Majesty's Antigua and Barbuda Ministers, invested and presented to Sir Anthony the insignia of Knighthood in the rank and dignity of Knight Grand Cross of the Most Distinguished Order of the Nation (KGCN).
The Most Distinguished Order of the Nation is an Order of Chivalry instituted by Queen Elizabeth II in right of Antigua and Barbuda through the National Honours Act which received Royal Assent on 31 December 1998.
The investiture ceremony took place at the Governor General's official residence Government House in St John's on Sunday 2 November 2014 in the presence of the Prime Minister and Foreign Minister of Antigua & Barbuda and other senior diplomatic and ministerial figures.
Among others attending the ceremony were fellow honourees HRH The Duke of Castro and HE Cardinal Renato Raffaele Martino, Grand Master and Grand Prior of the Constantinian Order respectively. HSH Princess Marie-Therese von Hohenberg Lady Bailey, the Rt Hon Baroness Scotland of Asthal QC, His Grace The Most Reverend Robert Rivas, Archbishop of Castries, HE Archbishop Nicola Girasoli, Apostolic Nuncio to Antigua & Barbuda and the Most Reverend Kenneth Richards, Bishop of St John's-Basseterre were also present.
This institutional honour was presented to Sir Anthony in recognition of the Order's contributions to humanitarian, charitable and inter-religious endeavour in Antigua & Barbuda, the Commonwealth and the wider world and was granted on the occasion as part of an institutional exchange of honours held to mark the Official Visit to Antigua & Barbuda of the Constantinian Order which took place between 1-4 November 2014.